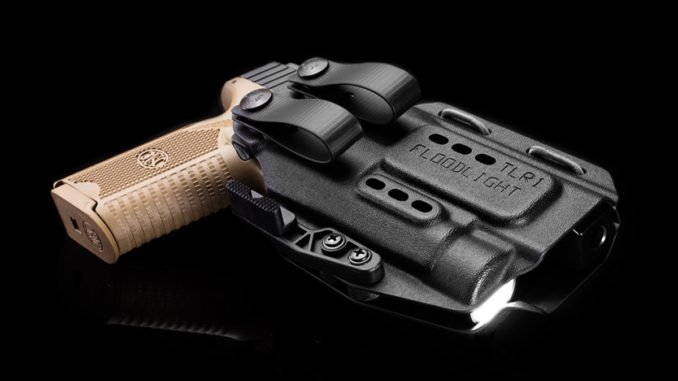 Since the release of the original X300 Ultra PHLster Floodlight that we told you about last year, it was as if thousands of voices cried out in terror that there was no TLR-1 Floodlight fitment. Now you have that option with the announcement of a new TLR-1 Floodlight from PHLster.
If you aren't familiar with the Floodlight, Jon of PHLster and Andrew of Henry Holsters put their collective smarts together and came up with a way to make one holster fit dozens of firearms. The ultra-clever application of shock cord means that you can literally have one holster that fits nearly all of your pistols capable of attaching a Surefire X300U or a Streamlight TLR-1 to the rail.
As an added bonus, the Floodlight can be set up as a right-handed holster or as a left-handed holster. Now you have an option to dual wield your Langdon Berettas should the occasion arise.
Making things even better, PHLster will be shipping the TLR-1 Floodlight with a set of Pull-The-Dot soft loops and also offers the ability to use tuckable belt clips like the superb Discreet Carry Concepts clips.
This slideshow requires JavaScript.
The new TLR-1 Floodlight's MSRP will be at the same $119 price just like the original X300 Ultra PHLster Floodlight. Find more information on the PHLster website or you can also place an order for the new holster there.
More from PHLster about the TLR-1 Floodlight:
New for Summer 2019 is an addition to our popular Floodlight product line. Proven as a reliable, effective, and truly multi-fit concealment holster for service pistols with an X300 WML attached, the Floodlight is now available for the TLR-1 and TLR-1 HL WML.

Featuring ambidexterity, adjustable retention, adjustable slide contact for fine-tuning pistol fit, and compatibility with IWB loops and clips, you no longer need a different concealment holster for each of your guns.

It's been a long time coming and we are very excited to bring this versatility and capability to TLR-1 users. Expect the TRL-1 Floodlight to be in stock at PHLsterHolsters.com in early July.