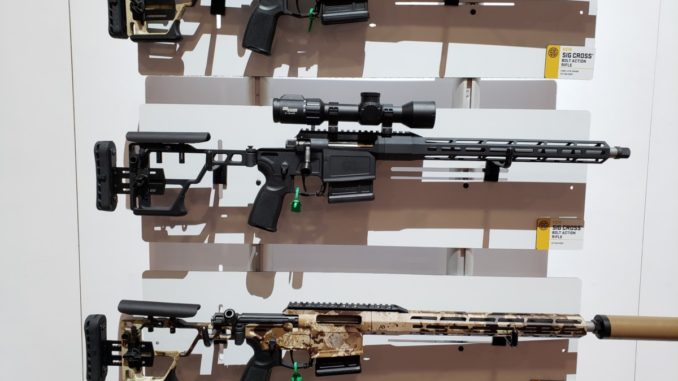 SIG Sauer is stepping into the precision bolt action market at SHOT Show 2020 with their new rifle, the Cross.
The SIG Sauer Cross is SIG's first foray into the modern bolt action marketplace. They've hit the ground running, bringing a rifle chock full of features that shooters have come to expect. Cross comes from a melding of the minds, combining the best aspects of hunting, Precision Rifle Shooting competition, and military use.
The skeletonized stock is adjustable for length of pull and comb height, and has a vertically adjustable buttpad for the proper shoulder weld. With storage in mind, the SIG Sauer Cross stock folds and locks into place. When folded, the bolt is unable to cycle. The folding mechanism is simple to use, but also locks in solidly, with zero wobble.
The receiver is one solid piece of aluminum. SIG's Cross accepts all standard AR-15 grips. At first glance it looks like standard AR safeties are used as well, but it is only the form factor that is the same. To be clear, AR-15 safeties DO NOT work with the Cross. The trigger is two-stage, with adjustments from 2.5-3.5 pounds of pull weight. SIG includes a single 5 shot AICS PMAG with the rifle.
A button just above the bolt acts as the bolt release. To remove the bolt, the stock must be slightly folded, out of the way of rearward travel. Both 0-MOA and 20-MOA rails are provided for mounting optics. Stainless steel barrels come in both 16" and 18" configurations depending on caliber and model. The Cross is offered in 5.56 NATO, 7.62 NATO, 6.5CM, and SIG's new .277 SIG FURY. All versions are capped off with 5/8-24 threads at the muzzle. An aluminum rail with eight MLOK segments encircles the barrel. Rifles weigh between 6.5-6.8 pounds depending on the configuration.
The SIG Sauer Cross will be available this summer and has an MSRP of $1,499.