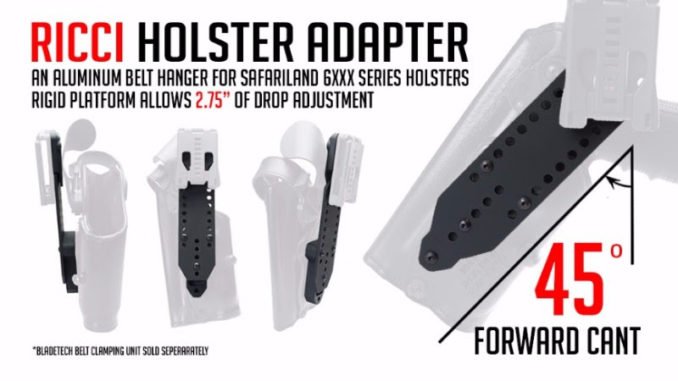 Strike Industries has introduced the Ricci holster adapter for the Safariland 6000 series holsters. The aluminum belt hanger adds up to 2.75″ of a drop as well as 45 degrees of forward cant to make the holster more comfortable when seated, something that I can really appreciate. The all aluminum construction is really light, after all, you have enough weight on the belt to start with. Users will also appreciate the rigidity that the aluminum platform provides, after all, who likes a floppy holster?
The holster mounts to any Safariland holster or accessories that use the 3 hole mounting system with some simple screws and uses a Bladetech Tek Lok attachment making attachment to a shooting or duty belt a snap. Here are the specs from the Strike website, it appears the Tek Lok attachment is sold separately.
Package Includes:
– 1x Swivel Houseing Unit
– 1x Holster Mounting Bracket
– 1x Adjustable Drop Unit
Features
– Adjustable for cant while seated in vehicle or patrol car.
– All aluminum construction is rigid, durable, and light weight.
– Wide adjustment range for drop and up to a 45 degree cant.
– Fits any Safariland® holster or accessory that uses their 3-hole mounting system.
The MSRP of the Ricci holster adapter is $99.50 and is in stock today over at Strike Industries page. You can read more about the Ricci adapter by clicking here.
This post originally was run on The Firearm Blog - http://www.thefirearmblog.com/blog/2016/07/18/strike-industries-ricci-holster-adapter/