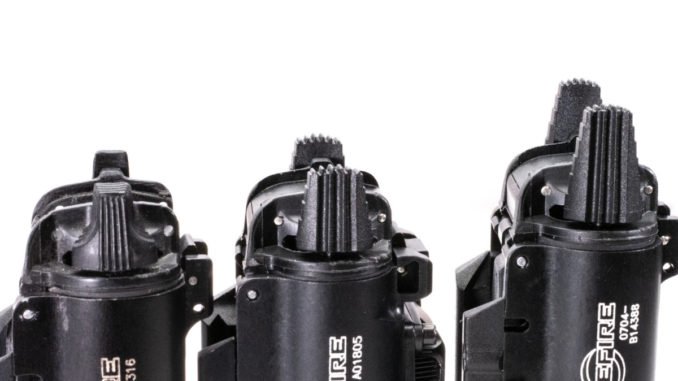 The PHLster ARC has been teased for a few weeks now on social media leaving folks confused. Knowing PHLster's track record of making great gear like the Spotlight TLR-7 holster we reviewed, we knew that whatever it was, it was going to be something worth talking about.
Does that sound like a fanboy statement? Probably, but the reality is they haven't announced anything to date that makes you wonder what they were thinking. Everything that Jon and the PHLster team has launched has been nothing short of well thought out, innovative, and designed to address a specific problem.
Check out the bad-ass video posted below that tells you all you need to know about the PHLster ARC. We will end up following up later with a review of the PHLster ARC after we spend some quality time with one.
What Is The Point Of The PHLster ARC?
The Surefire X300 Ultra (Check out THIS ARTICLE to make sure you don't have a fake.) is fantastic, but the switches on them are something that some users modify to be easier to activate. The new PHLster ARC will allow those with Surefire X-series lights to tailor their switches to their needs while still being able to get their gun into their holster.
Giving credit where credit is due, Steve Fisher of Sentinel Concepts is the father of the aptly named Fisher Switch mod that spurred the development of the PHLster ARC. You can get the rundown on the Fisher Switch mod in this excellent post on Breach Bang Clear written by Dave Merrill, now Features Editor of RECOIL Magazine.
This slideshow requires JavaScript.
Where To Get It
The PHLster ARC will run you $24.99 and can be pre-ordered on the PHLster website or on Big Tex Outdoors. Preorders should ship in about two weeks (10 business days) from the date this is being posted.
More from PHLster:
For years, serious shooters have been executing DIY modifications to their WML switches. Using JB Weld, putty, or epoxy, shooters have been improving their speed and consistency of WML activation by building up the small switch nubs on their lights. Drawing on those years of end-user experience, PHLster is excited to announce the launch of their ARC Enhanced WML Switches.

Shipping as a set of three pairs of switch enhancements, the ARC allows users to decrease the distance between activation fingers and switches, optimize their light for right or left-handed use, improve speed and consistency of activation based on their preferred method, and reliably engage the WML switches with gloved or wet hands. Each set of switch enhancements includes a Large, Extra Large, and Extra Large Blank set of switches. The L and XL are both aggressively textured and the XL Blank allows users to shape, carve, and stipple the switches to fit their specific rquirements while remaining within a holster-friendly dimension.

If you have short fingers, are tired of compromising your grip to activate the WML, dislike grip switches, need more reach to activate the switches when installed on certain pistols, or just want to make WML activation faster and easier, the PHLster ARC is a necessary upgrade.

Switch installation is easy and requires no permanent modification. The stock switch nubs are easily removed with pliers or a small screwdriver and the enhanced switch end-caps press on to the switch armature bar. And, the ARC switch enhancements fit pretty much every decent WML holster on the market, including Safariland and many, many others.
At launch, the ARC is available at PHLsterHolsters.com and BigTexOutdoors.com for $24.99.