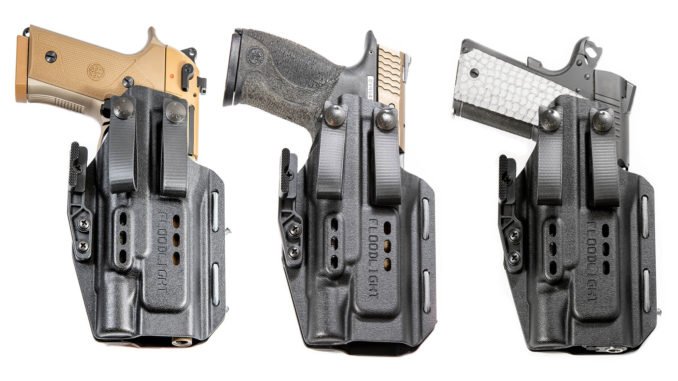 The new PHLster Floodlight holster was released on the PHLster Instagram page and I couldn't be more excited.
As I near the end of my testing on the PHLster Spotlight for the TLR-7, I am finding that I am more impressed in the design of their holsters every time I strap one on for the day and feel comfortable in saying that the Floodlight will likely offer the same experience.
Look for a review on the PHLster Spotlight for Glock with the Streamlight TLR-7 mounted to it on Firearm Rack soon.
PHLster built many of the features into the Floodlight that you would expect out of a PHLster holster like a ModWing strut and mounting points for Pull-The-Dot belt loops.
They also added the ability to use the included tuckable belt clips or even Discrete Carry Concepts belt clips if you purchase them separately.
The holster has been designed to work well in either the appendix carry position or even work for those that prefer to carry IWB in another section of their waistline.
The new PHLster Floodlight is multi-gun capable thanks to the unique shock cord design that prevents the gun from rattling or jiggling around regardless of the width of the slide.
If you are worried about retention you shouldn't. The Floodlight uses traditional screws to clamp down on a Surefire X300 light body allowing the retention to be set to your preference.
Another new feature of the PHLster Floodlight is the ability to switch the holster to be left hand compatible. PHLster has included the same clip or Pull-The-Dot loop mounting holes on the reverse side.
While a wedge isn't built into this holster, you do have the ability to attach an aftermarket or DIY wedge to the flat portion of the holster body if you desire.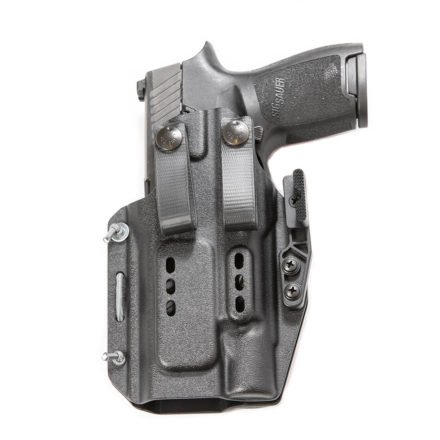 The PHLster Floodlight will set you back $119 as shown and can also be added to the PHLster Flex system. Check out the product page for the PHLster Floodlight or find PHLster Flex packages on the PHLster website.
From the PHLster product page:
The Floodlight is a universalized holster, made to accept nearly any service-grade pistol capable of attaching an X300U A or B weapon light. 

To accomplish this, many features are smoothed, radiused, and regularized to accommodate the different shapes, sizes, and dimensions of this wide array of firearms. 

Like the Spotlight holster, adjustable retention is included, allowing the user to increase or decrease the friction retention on the body of the WML to tune the draw to their preference. Turn the screws attaching the ModWing grip-tucking hardware to dial the retention to your preference. 

In order to ensure the best possible fit and retention across the widest variety of pistols, the Floodlight is a two-piece design, like the Skeleton holster, but features adjustable slide contact. By shortening or lengthening the shock cord connected the two halves, users can reduce or eliminate play, rattle, and slop when switching between guns that have different slide dimensions. 

The Floodlight, like the Skeleton, is ambidextrous and can be worn AIWB or strong-side IWB, using either soft loops or clips (included). Reduced, lower-profile ergonomic molding improves comfort in a variety of carry positions and provides an ideal attachment point for your choice of aftermarket ergonomic wedge or DIY solution. 

Like all of our holsters, the Floodlight accommodates muzzle devices, suppressor height sights, and slide-mounted optics. 

The Floodlight confirmed fit list is as follows: