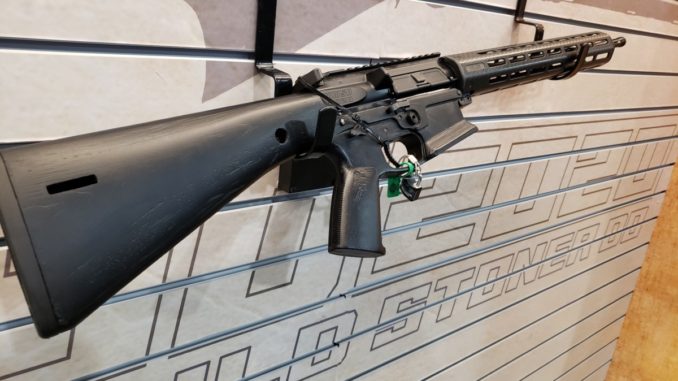 Brownells and InRangeTV had their new WWSD rifle on display during SHOT Show 2020.
WWSD (What Would Stoner Do) is Karl Kasarda and Ian McCollum's take on simultaneously modernizing the AR-15 while bringing it back to its roots. The rifle is designed to utilize rugged and lightweight parts to optimize it for both field and competitive use.
One of the most striking features of the WWSD rifle is the KE Arms Mk3 polymer lower receiver. This is one solid piece from buttstock, to grip, to lower, making for an incredibly light, but strong, component. Stocks feature both QD cups and MLOK slots for sling mounting. The trigger is the KE Arms SLT-1 enhanced trigger. The charging handle, safety, and bolt release are all ambidextrous.
This slideshow requires JavaScript.
1/8 Twist barrels are pencil profile and 16" in length, topped off with a titanium flash suppressor. Handguards are made from carbon fiber with eight MLOK postions. There are no iron sights included with the WWSD rifle, as it is intended to use optics only. Final productions models will weigh in right at 5 pounds naked.
WWSD rifles are available exclusively through Brownells. Rifles will be for sale in May, but preorders are live now. The gun retails for $1,699.99.
Affiliate Disclaimer: Firearm Rack is funded through direct donations and affiliate programs. Some links on FirearmRack.com are affiliate links. Using one of these links costs nothing extra, the retailer pays a percentage of the sale to Firearm Rack. Funding in this manner will assure that factual information is always first. If you would like our Amazon affiliate link or find more retailers on the Support Us page