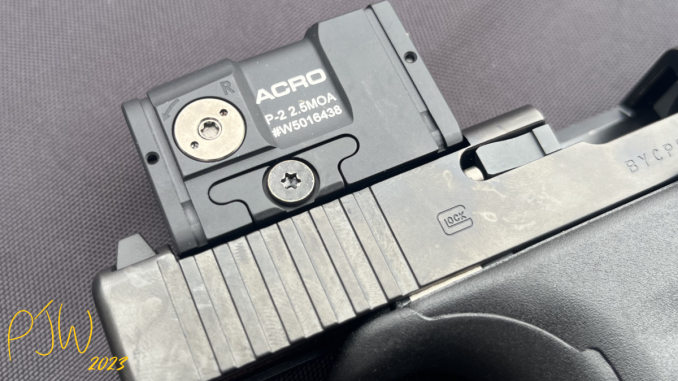 Aimpoint is a company that I really, really enjoy. I've got multiple articles about the older optics of theirs, and I carry & use many of their modern offerings. We were able to shoot some Aimpoint mounted handguns, and chat with their staff.
Aimpoint On the Range
Aimpoint arrived to Range Day 2023 with a smattering of optics. However, the only optic that Dan and I played with was the ACRO P-2. The P-2 was announced in 2021, and I've personally bought two of them since it launched. It is a closed emitter optic, taking 2032 batteries. As someone who extensively used the ACRO P-1, the P-2 does everything better than the P-1.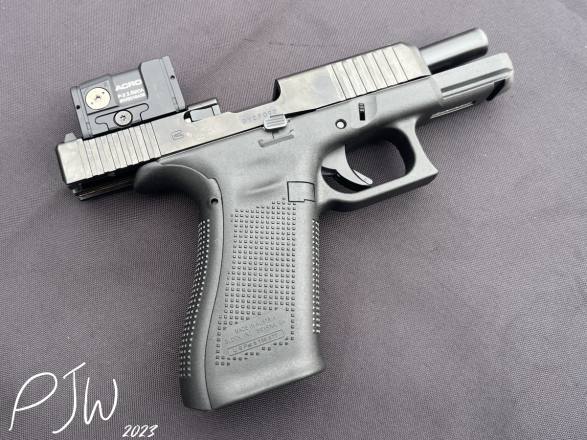 The only handgun that I wanted to shoot was the Glock 45 MOS, with the ACRO P-2 attached. I'm primarily a Glock shooter these days, however, I have Trijicon RMRs on my Glocks. The typical Glock recoil impulse stayed the same, with the clear, crisp dot of the P-2 working well.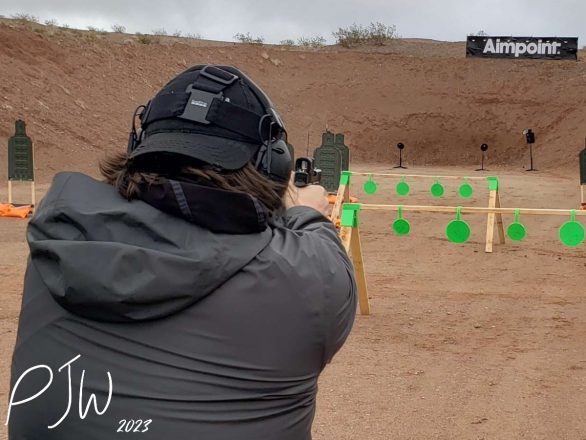 The neat thing about the specific Glock 45 that Aimpoint brought, is that it is one of the MOS 7 direct milled ones. Directly milled from the Glock plant for the ACRO footprint is pretty cool. Factory height iron sights were able to cowitness too, which was neat.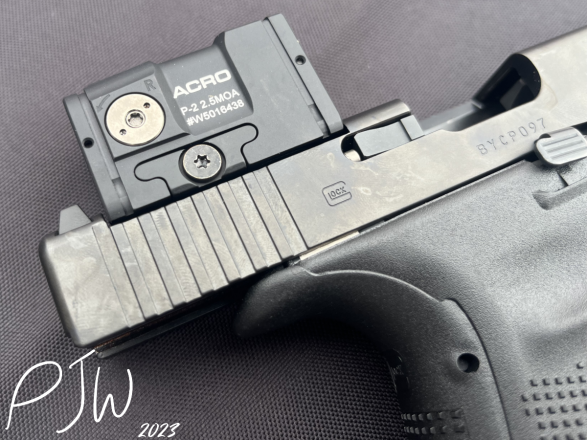 Duty RDS Vs. PRO
While we didn't shoot it here, Aimpoint was also demoing their Duty RDS. While a newer optic, it was released last year. I had a sneaking suspicion that the Duty RDS was made to replace the venerable Aimpoint PRO, however, the representatives today stated that both would still be sold, and would coexist as products.
I recorded some shooting footage, along with a chat with a representative from Aimpoint. While boring to many, nerding out about boxes and tubes with red lights in them is a favorite pastime.
Despite Aimpoint not having anything new to unveil today, they have an event on 1/17/2023. We'll be sure to cover that too!
UPDATE: It was a video promo that aired at 11AM on 1/18. It is linked below: