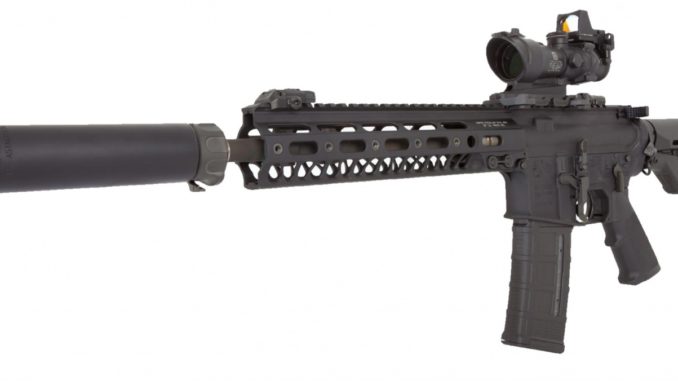 I have openly criticized Colt in the past for not paying attention to what the consumer wants or introducing something to the market WAY too late. While the new M5 Enhanced Carbine isn't on the leading edge of a trend, nor was it outfitted optimally in the form it was shown at the 2017 Bahrain International Defence Exhibition & Conference, it was a hint that Colt is starting to pay attention.
The new rifle will be offered with a piston system as well as a pretty rad Geissele Super Modular Rail that uses the same flush mount screw system that you find on the MARC 901 rifles as well as many other rifles that have been submitted for DOD programs.
Army Recognition posted about the new carbine on their website and included a photo of the shorter barrel variant that appears to be outfitted with Magpul MBUS Pro back up iron sights as well as a what appears to be a Trijicon MRO with a Trijicon branded cover.
The American small arms manufacturer Colt unveils its new M5 Enhanced Carbine 5.56mm caliber at BIDEC 2017, the Bahrain International Defense Exhibition and Conference. Currently, the new Colt M5 Carbine is available in three barrel length configurations.

Photo credit: Armyrecognition.coim

Introducing the M5 Enhanced Carbine series of assault rifles for the modern war fighter and special weapons law enforcement professional when weight, comfort and adaptability are critical.

The Colt M5 Enhanced Carbine features a completely redesigned lower receiver with fully ambidextrous controls and a 6-posrtion receiver extension adaptable to any sized shooter and bilateral shooting style. With maximum performance and ergonomics at the forefront of the design considerations.

The Colt M5 Enhanced Carbine has a low profile gas block in a carbine length gassystem and a free float modular rail system, maximizing rail real estate, comfort, weight and accuracy, while at the same time, maintaining the same lethality and accuracy expected from a Colt.

The Colt M5 uses a conventional short-stroke tappet piston where a two piece piston/ operating rod strikes the face of the bolt carrier group driving it rearward and the piston rod returns to its forward position by a spring.

The barrel itself has had some redesign work on it as well though still utilizing the standard M4 feed ramps on the barrel extension. There are modifications of the chamber area of the barrel and the changes further ventilate gas and helps with air circulation by drawing heat out of the receiver and out the handguards.

The M5 Enhanced Carbine is truly the next step in a long legacy of Colt high performance assault weapons.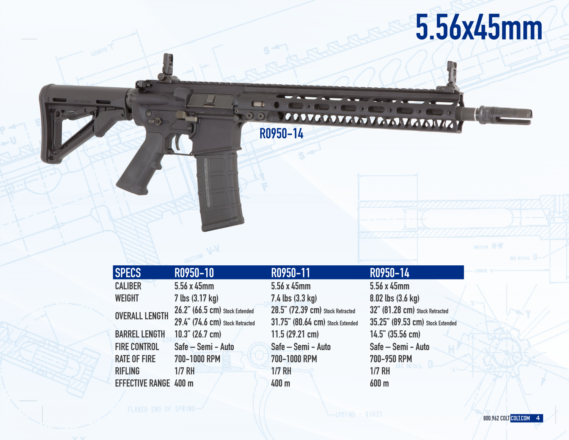 Props to Nathaniel F. for the photos.