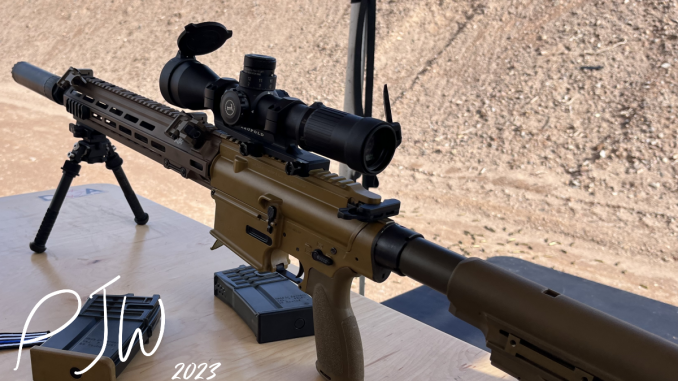 I moved to Salt Lake City, Utah, back in the Summer of 2022. I've tried to get familiarized with the local gun companies, and parts manufacturers. At the HSG Night Fighter 1 course last month, two students had HUXWRX suppressors. HUXWRX is local to SLC, so that class put them on my "mental map". Well, HUXWRX came to SHOT this year, so we decided to check them out.
HUXWRX On Range Day
HUXWRX came to SHOT Show Range Day 2023 with a handful of guns, all with different cans. Dan and I tried out 4 of the guns, and we were really impressed by the shooting characteristics. HUXWRX is doing a "baffle-less" design, which has reduced backpressure, and increased sound reduction. I've shot quite a few suppressors over the years, but none have ever been as pleasant as these ones. We shot 5.56, 45 ACP, 9MM, and 7.62 cans, and they were all pleasant.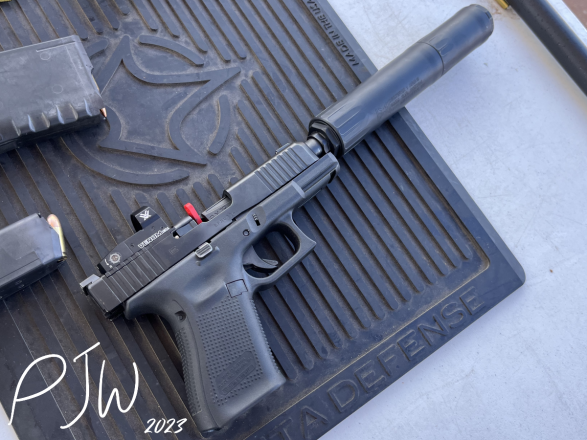 HUXWRX had their pistol cans on a Glock 19, and CMMG Banshee. Both guns had much reduced sound and backpressure, and were pleasant to shoot. Admittedly, the Banshee was having some reliability issues, but it didn't sully the suppressor experience.
The Glock also had some minor malfunctions, mostly due to the barrel lockup. However, we still had a pleasant time trying out the RAD 9. For me, the highlights were certainly the Triarc AR with the HX-QD 556, and the HK 417 with the HX-QD 762.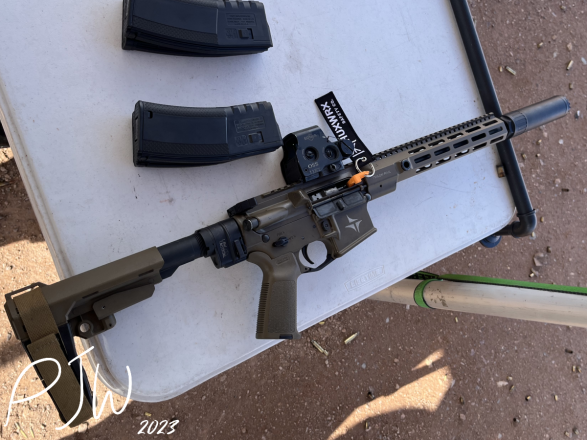 Backpressure is generally the least pleasant thing about shooting suppressed guns. While they are quieter, all of that pressure generally shoots out of the back and sides of the receiver of the firearm. With ARs, this generally means extra gas through the charging handle cutout, and the ejection port. Dan and I both shot each long gun right and left handed, to see how bad the gas was. It was sublime, as there was no gas shot into our faces.
Here's the footage of us shooting at the HUXWRX booth:
HUXWRX On the SHOT Show Floor
After Range Day, we visited the HUXWRX booth on the show floor. We chatted with a few reps, that had described the desire to make cans that would not get baffle strikes, would have less backpressure, and would be quieter. Well, I think they succeeded. I've been waffling about which suppressor to buy, but I've got a feeling it'll be a HUXWRX now.