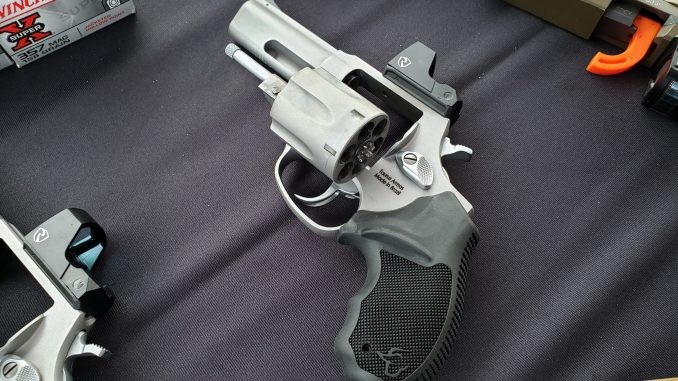 Today we checked out some of the new offerings from Taurus during Range Day of SHOT Show 2023. Check out the details below.
856 / 605 TORO
Recently Taurus unveiled TORO variants of their 856 and 605 revolver lines, in both 38 Special and 357 Magnum chamberings. What sets these apart from other revolvers is their OEM support for optics plates, similar to what you'd see in most semiautomatic pistols on the market today. The 856 and 605 TORO feature the Shield RMSc footprint, which is fully compatible with the Holosun K-series of red dot sights.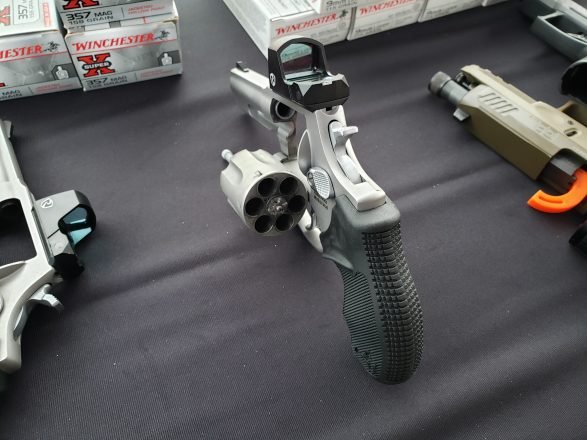 As an added bonus, Taurus is getting holster support from PHLster, Dark Star Gear, and Harry's Holsters for both iron sight only guns, and optics ready revolvers. Some of these will be available directly through the Taurus store.
Expect the 856 TORO and 605 TORO to be available in Q1 of this year. MSRP is $450 on the black 38 Special variants, and $475 for stainless 357 Magnum models.
Taurus TX22 Compact
Following the massive success of the TX22, Taurus is now releasing the TX22 Compact. Despite being smaller than a Glock 19, the TX22 Compact holds its own in terms of accuracy and shootability. The most distinctive change is the ability to reliably use slide mounted optics with the RMSc footprint. All versions of the TX22 Compact feature this optics cut, making them compatible with Holosun K-series red dots, with some models offering a threaded barrel. Users can choose between 10 and 13 round magazines, along with some models featuring a factory mounted Riton optic.
The Taurus TX22 Compact is available now, with an MSRP of $399.
Judge Executive Grade
One of the more unusual offerings of SHOT Show 2023 is the Taurus Judge Executive Grade. This brings a higher degree of finish and quality control to the Judge series of revolvers. The guns themselves remain largely the same; double/single action, five shot 45 Colt / 410 shot shell revolvers. Only firing a few rounds of Hornady Critical Defense in 45 Colt, I was impressed with how well the Judge shot, especially compared to similar guns I've reviewed in the past. The brass rod front sight is a welcome improvement, and provided a fantastic sight picture in the overcast morning light.
The Taurus Judge Executive Grade is available now with an MSRP of $950.
Taurus at Shot Show 2023 Range Day Video
For more details, and footage of us shooting the new offerings from Taurus, check out our video below.