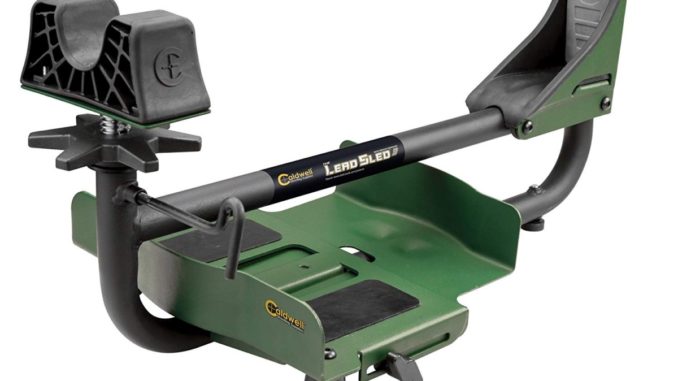 Here are the 6/11 gun deals, the first one to take note of is the Lead Sled 3 with an all-time low price in my quick search.
Please keep in mind that Firearm Rack is in no way endorsing these products, just making you aware that these deals exist.
If you want to remove shooter error from the equation, the Caldwell Lead Sled 3 might be the ticket. At under a hundred bucks on Amazon, I think this might be a record low price on the Lead Sled 3.
More from Caldwell about the Lead Sled 3:
The Lead Sled 3 has become the standard in weight reduction shooting rests. The Lead Sled 3 reduces recoil by up to 95% while securely holding your gun on target. The new Skeletonized front rest secures your gun with it's non-marring surfaces. The Improved rear buttstock cradle uses top of the line Shock Eliminator Technology and has non-marring cradle to keep your gun in place.

• Ideal for magnum rifles & slug guns
• Holds up to two 25 lb. bar bell weights
• Holds up to 100 lbs. of lead shot
• Fingertip elevation adjustment
• Non-marring rubber feet
• Rear adjustable elevation
I think that it is pretty cool that PSA is offering two of their best selling rifles with matching serial numbers. The serials will be ARSET####### for the PA-15 and AKSET####### for the PSAK-47.
While you might scoff at the Palmetto State Armory rifles, but check out part 1 and part 2 of my tour of Palmetto State Armory on Ammoland before you make a decision. I was pretty impressed with their operation and found that they were building some pretty impressive quality into their rifles.
More from Palmetto State Armory on the matching set:
PSAK-47 GF3 Liberty Classic Polymer Rifle

The PSAK-47 GF3 was designed from the ground up to be a new standard in AK-47 rifles, utilizing all new precision manufactured parts.  Thoroughly tested in development, we tortured tested to 10,000 rounds to ensure a quality product.  Not to be satisfied with just a good AK-47, we kept improving and now are proud to announce our PSAK-47 Gen3 Hammer Forged (GF3) rifle with a hammer forgedbolt, carrier, and front trunnion.

The 4150 barrel is nitride treated for accuracy and durability and is pressed into a new hammer forged front trunnion to ensure the longevity AK-47s are known for.  The hardened steel 1mm receiver features a mil-spec style single hook trigger, and side rail mount.  The front trunnion and bolt carrier are engraved with GF3 to designate the GF3 hammer forged model.  The rifle is finished with a classic polymer handguard, stock, and grip; Rifle ships with 30 round Magpul magazine (where allowed by law).

Barrel: Chrome Moly steel. Chambered in 5.56 NATO, with a 1:7 twist rate, M4 barrel extension, and a carbine length gas system.  The barrel is finished off with a standard handguard,  F-Marked gas sight base, and A2 flash hider.
Upper: Forged 7075-T6 A3 AR upper is machined to MIL-SPECS and hard coat anodized.   Uppers include forward assist and dust cover.  These uppers are made for us right here in the USA by a mil-spec manufacturer.
Bolt: Full-auto profile bolt carrier group.  Shot-peened, mil-spec Carpenter No. 158® steel bolt.  Gas key is hardened to USGI specifications, Fastened with Grade 8 screws, and staked per Mil-Spec.  8620 steel M-16 profile carrier is chrome lined and phosphate coated.
Lower: These forged lowers are quality made using 7075-T6 aluminum and are marked "MULTI" for caliber. Finish is hardcoat anodize. Mil-spec diameter 7075-T6 buffer tube is hardcoat anodized, six adjustment positions, and fitted with a PSA M4 Carbine Stock. The fire control group is a PSA mil-spec finished, single-stage assembly.
In order to get the Brownells Glock 34 RMR slide for $180 shipped you need to add a filler item to your cart. You can never have too many AR takedown pin detents, the DPMS detent is in stock and pretty cheap.
More from Brownells on the Glock 34 slide:
The Brownells RMR Cut Glock 34 Slide is machined entirely from heat treated stainless steel and features a black-nitride finish to protect it from corrosion and wear. The Brownells RMR cut slide features OEM style rear serrations and additional front serrations for enhanced manipulation. The RMR cut slide also features a window cut on the top between the front serrations that reduces weight

The machining on the Brownells RMR Cut Glock 34 Slide doesn't end there; the slide also features a cutout sized to fit a Trijicon RMR red-dot sight, allowing for fast, easy target acquisition. Internally, the slide is machined to Glock factory specs, so it'll accept all standard G34 components
Sometimes having a cheap knife tossed into your range bag or glovebox is super handy. At just over $20 for an assisted open knife, the Gerber Fullback Knife looks like a decent option for a spare knife.
More from Gerber about the Fullback knife:
A workhorse to tackle any job, this knife features a sturdy 3.25 mm thick Wharncliffe blade partnered with a hefty, durable handle for comfort in hand. Quick deployment comes from the FAST 2.0 mechanism, anchored by both a plunge lock and a cross bolt safety feature when in use.
Affiliate Disclaimer: Firearm Rack is funded through direct donations and affiliate programs. Some links on FirearmRack.com are affiliate links. Using one of these links costs nothing extra, the retailer pays a percentage of the sale to Firearm Rack. Funding in this manner will assure that factual information is always first. If you would like our Amazon affiliate link or find more retailers on the Support Us page