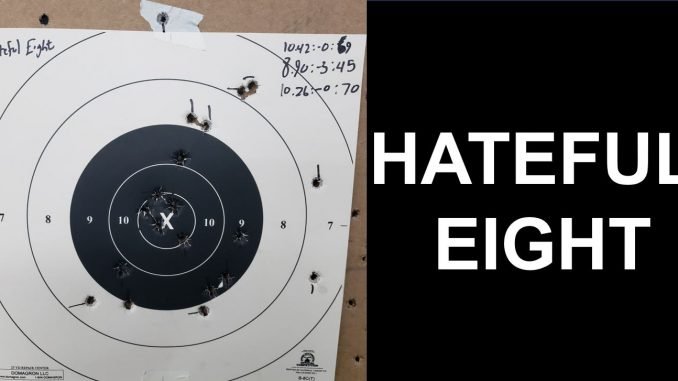 The Hateful 8 is a less well known drill compared to others in this series, but that doesn't stop it from being one of the more challenging. I haven't had the opportunity to try it many times, but it is one of the few I have not cleared. Requiring multiple magazine changes, a shot timer, and drawing from the holster, opportunities to practice this may be limited.  
Setting Up Hateful Eight
You'll need a single B8 target, two magazines loaded with two rounds each, and a pistol loaded with four rounds in the holster. Place your target at eight yards. One the beep, draw and fire four rounds, perform a slide lock reload, fire two rounds, a second slide lock reload, fire your last two rounds.
Eight rounds. Eight yards. Eight Seconds.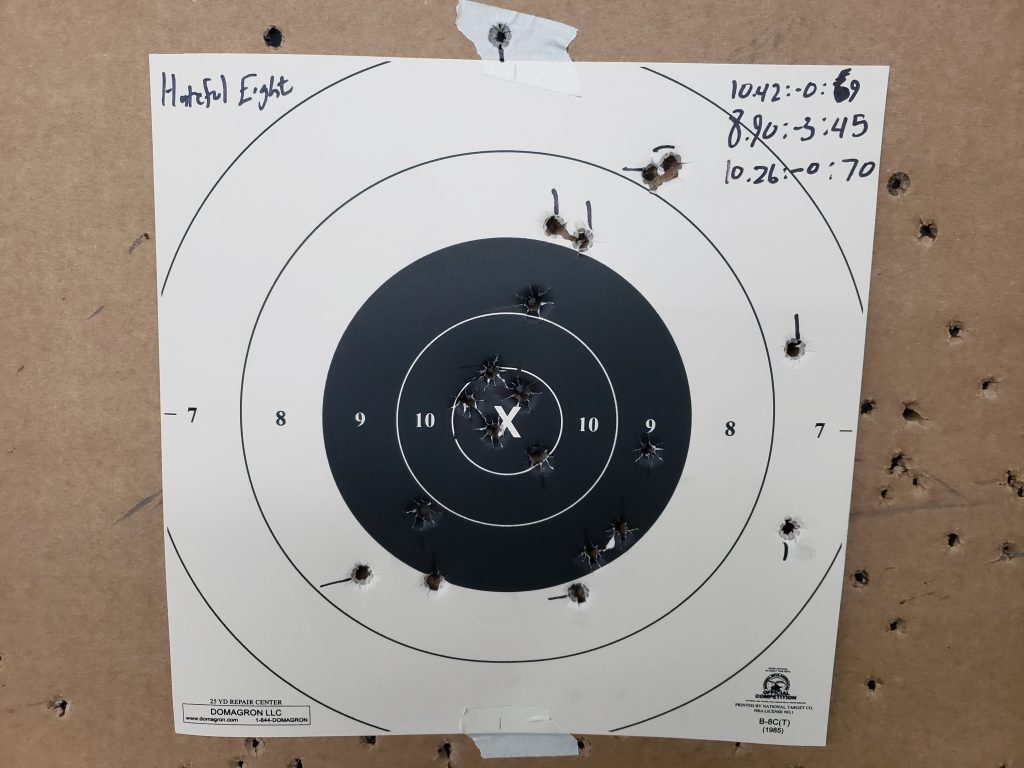 Scoring this Drill
Much like with The Test, Hateful Eight offers points based upon the rings struck. Line breaks count as the higher point. There are multiple objectives to baby-step your way to greatness. Start with trying to keep all rounds on paper within the time frame. Then within the black, so on and so forth.
For those looking for a greater challenge, try loading your magazines with random amounts of ammunition. I added some time to my first run by accidentally riding the slide stop--preventing the gun from locking open on empty. Not great for my score, but a good example of how things can go wrong under pressure.
Range Time with the Hateful Eight
The Hateful Eight is an awesome drill that tests a multitude of skills. The par time is reasonable and accuracy standard seems reasonable when compared to 5x5 or The Test, but then it gets complicated. Your reloads cost precious time and break the sight picture. Your fundamentals will be tested during presentations. I tried to buy back time by shooting faster, which just pushed rounds out of the black.
Think you have what it takes to pass the Hateful Eight? Try shooting it for yourself and let us see how you did. Post your results to Discord or Facebook! Want to learn more about the drill? Check out Citizens Defense Research, who came up with Hateful Eight.