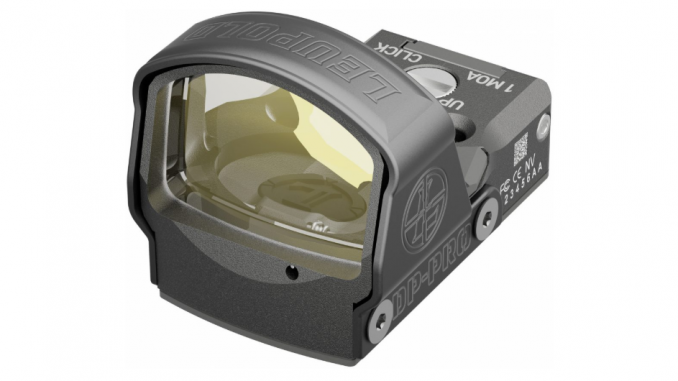 Leupold recently released an updated version of the DeltaPoint Pro, now with night vision compatibility. These new models feature two additional brightness settings for use with modern night vision, which was not previously capable with the DPP.
The new night vision capable DeltaPoint Pro is now available for purchase from Leupold. MSRP for the flat black model is $584.99 and $649.99 for Flat Dark Earth.
Leupold Adds Night Vision Optimized Model to Popular DeltaPoint Pro Line
Leupold & Stevens, Inc., provider of the world's most rugged, lightweight, and clear riflescopes and reflex sights, is pleased to announce that its popular DeltaPoint Pro reflex sight line is expanding, with the addition of two new models optimized for use with advancing night vision technologies.

Available in both a Matte and Flat Dark Earth (FDE) finish, the DeltaPoint Pro Night Vision (NV) supports modern night vision devices by utilizing two new illumination settings that fine tune the red dot to match the sensitivity of your equipment. While the original DeltaPoint Pro works great with legacy night vision devices, the DP Pro NV adds flexibility for all systems including the most advanced technologies. Ten brightness settings are featured, whereas the standard DP Pro features eight. The DP Pro NV's two lowest brightness settings and highest singular brightness setting can be fine-tuned incrementally.

The result is that shooters using night vision optics in combination with the DeltaPoint Pro NV can fine tune the intensity of levels 1 and 2 to optimize performance. The brightest setting, level 10, can be adjusted to best match even the brightest shooting conditions. When needed, it's easy to reset the DP Pro NV to factory default settings

"Shooters asked for an adaptable red dot sight that could support modern white phosphorous night vision equipment, we delivered that with the DeltaPoint Pro NV," said Tim Lesser, Vice President of Product Development for Leupold & Stevens, Inc. "The DP Pro is the fastest, toughest red dot on the market, and the original model was compatible with some night vision configurations – but not all of them. The new NV model ensures that you'll be able to call on the DeltaPoint's unparalleled performance no matter what gear you're running."

The DeltaPoint Pro NV is designed for those who don't just demand speed, but depend on it. It delivers true-to-life color consistency, and premium edge-to-edge lens clarity with Leupold's Twilight Max Red Dot System. Its design creates an incredible field-of-view that opens up your peripherals and allows you to get on target fast. It also disperses recoil energy for unrivaled durability with an ultra-lightweight construction.

Like all Leupold red dot sights, the DeltaPoint Pro NV is supported by the company's battery-saving Motion Sensor Technology (MST), which puts the sight into a battery-saving standby mode after five minutes of inactivity. When the MST detects motion, it instantly activates the sight so it's ready when you are. A manual mode allows the sight to shut off when not in use.

Waterproof, fogproof, and guaranteed to perform life, the DeltaPoint Pro NV is designed, machined, and assembled in Leupold's Beaverton, Ore., factory.