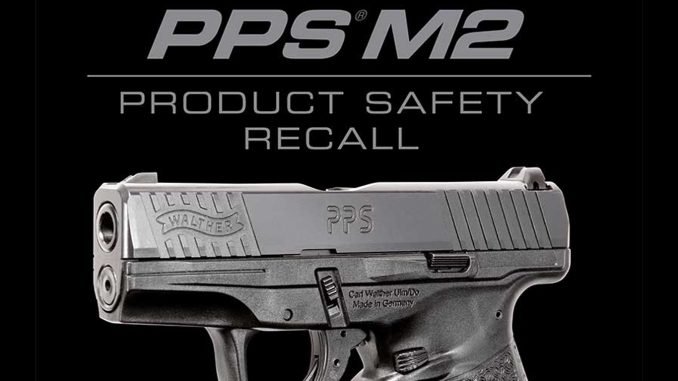 Just a reminder to those of you who own a Walther PPS M2, there is a recall issued for that pistol. Keep in mind that the recall was originally issued voluntarily by Walther in 2018, this is not a new recall. Walther sent a reminder email out, presumably due to many of the pistols not being sent back for the upgrade.
For those of you unaware of what the recall covers, some Walther PPS M2 pistols will fire when dropped. Walther will replace the faulty part when you send it in, we do not recommend you try to replace it yourself nor should you ignore the recall.
Don't be a moron like the Walther Forum user below. Get your gun fixed.

More from Walther:
Walther Arms has identified a potential condition with the trigger blade safety on the on the Walther PPS M2 pistols that could potentially cause it fail. The safety of our customers is our paramount concern so we have voluntarily initiated this recall because of the possibility of the pistol firing without the trigger blade safety being activated.

Please do not load or fire your Walther PPS M2 pistol and contact us immediately to arrange to have your pistol upgraded free of charge.

If your pistol has already been upgraded, there will be a dot milled onto the back side of the magazine well opening.

The upgrade will be done at no charge to you.  For free shipping, please enter your informationhere, and complete the online form. NOT ALL PPS M2 MODELS ARE AFFECTED. Be sure to VERIFY that your serial number is affected by the recall before shipping your gun back for the recall. After completion of the form a confirm­ation email will be sent including shipping information.

Please note:  The serial number is located on the right side of the pistol (circled in red below)"

This recall applies to Walther PPS M2 which have a Serial Number ranging from AN3020 to AU7502

ONLY SERIAL NUMBERS BELOW ARE AFFECTED BY THE RECALL.

AN3020 through AN9999
AO0001 through AO9999
AP0001 through AP9999
AQ0001 through AQ9999
AR0001 through AR9999
AS0001 through AS9999
AT0001 through AT9999
AU0001 through AU7502

*If you are unsure if your Serial Number is involved in the recall, please email: PPSM2Recall@WaltherArms.com

If your PPS M2 is AN3019 or earlier your handgun is not included in the recall.

If your PPS M2 is AU7503 or later your hand gun is not included in the recall.
Find more information about the recall on the Walther website.