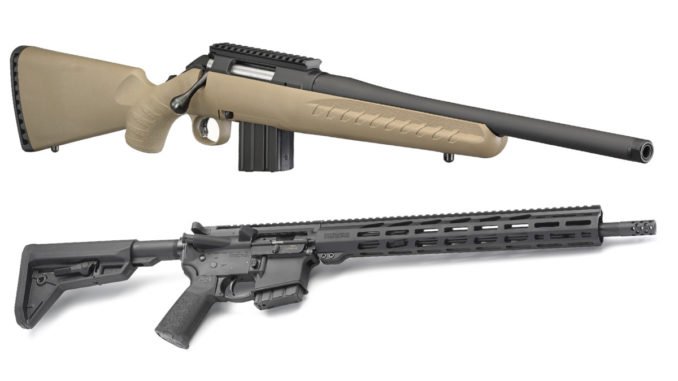 Recently three new Ruger .350 Legend rifles were introduced presumably to target hunters in states that restrict hunting with bottlenecked cartridges. Only one of the new rifles is based on the Ruger AR-556, the other two are Ruger American Ranch Rifles.
RELATED: Ruger PC Carbine Review
Ruger American Ranch Rifle in .350 Legend
The two American Ranch Rifles will be offered with a 16.38" barrel threaded 1/2" x 28 to accept any number of muzzle devices as well as suppressors should you desire. Both variations will accept AR-15 magazines designed to feed the new .350 Legend cartridge and includes one in the box.
So why two models? Ruger says that they are not only offering a standard fit stocked variant with a 13.75" length of pull, but there will be a compact youth stocked version with a 12.5" length of pull.

More from the Ruger website:
Ruger Marksman Adjustable™ trigger offers a crisp release with a pull weight that is user adjustable between 3 and 5 pounds, allowing shooters to make that perfect shot.
Ergonomic, lightweight synthetic stock designed for quick, easy handling blends a classic look with modern forend contouring and grip serrations.
Soft rubber buttpad is crafted for maximum recoil reduction.
The one-piece, three-lug bolt with 70° throw provides ample scope clearance and utilizes a full diameter bolt body and dual cocking cams for smooth, easy cycling from the shoulder.
Patented Power Bedding®, integral bedding block system positively locates the receiver and free-floats the barrel for outstanding accuracy.
Factory-installed, one-piece Picatinny scope base.
Offers minute-of-angle accuracy that can make every hunt a success.
Compact, threaded barrel with factory-installed thread protector is cold hammer-forged, resulting in ultra-precise rifling that provides exceptional accuracy and longevity.
The visible, accessible and easy-to-actuate tang safety provides instant security.
Also includes: one magazine; sling swivel studs.
MSRP for the new rifle is $549, sadly the rifles are not in stock anywhere we could find at the time this was written but check retailers like Brownells regularly.
Ruger AR-556 MPR in .350 Legend
The Ruger AR-556 MPR chambered for .350 Legend might be more to the liking of younger hunters or those looking to hunt packs of wild hogs with the rifle. It looks to be outfitted well with a 16.38" long barrel like the Ruger American rifles above and will sport the same 1/2" x 28 threaded muzzle. Also included on the rifle is a Magpul MOE grip and MOE SL stock as well as a 15" long M-LOK handguard.
Ruger says that they fitted their Ruger Elite 452 AR-Trigger giving the shooter a two-stage trigger with a pull weight of 4.5 pounds and their own radial muzzle brake to reduce recoil.
More from the Ruger website:
Lower receiver is fitted with Magpul® MOE® grip and MOE SL® collapsible buttstock on a Mil-Spec buffer tube.
Handguard is free-floated for accuracy and the slim, 15" length provides enhanced ergonomics.
Bolt is mil-spec 9310 and is machined and shot peened for strength and durability.
The Ruger® Elite 452® AR-Trigger is a two-stage trigger that offers a smooth, crisp, 4.5 pound trigger pull. It features a full-strength hammer spring for consistent primer ignition and a lightweight hammer that enables a faster lock time for improved accuracy.
Magpul® M-LOK® accessory attachment slots along the 3:00, 6:00 and 9:00 positions with additional slots on the angled faces near the muzzle.
Ruger® muzzle brake is a radial port design that significantly reduces felt recoil and muzzle movement. The threaded barrel allows for standard muzzle accessories to be installed.
Cold hammer-forged 4140 chrome-moly steel barrel with ultra-precise rifling provides exceptional accuracy, longevity and easy cleaning. Optimized feed ramp provides improved reliability, and the matte black nitrided finish provides corrosion resistance.
Made from aerospace-grade 7075-T6 aluminum forging, the flat top upper receiver includes a forward assist, dust cover and brass deflector, and is Type III hard coat anodized for maximum durability.
Bolt carrier and gas key have chrome-plated inside diameters to provide exceptional resistance to hot gases. The gas key is staked so that it will not loosen after extensive firing.
Pistol-length gas system provides smoother operation and reduces felt recoil.
Also includes: one magazine.
MSRP for the new rifle is $1,099. Sadly the rifle is not in stock anywhere we could find at the time this was written but check retailers like Brownells regularly.
Ruger's Press Release
More from Ruger:
Sturm, Ruger & Company, Inc. (NYSE: RGR) proudly introduces three rifles chambered in Winchester's all-new .350 Legend cartridge: two Ruger American® Ranch rifles and one AR-556® MPR. These new rifles give hunters and shooters a variety of options to use this exciting new cartridge in both traditional bolt-action and modern sporting rifle configurations.

"We heard our customers loud and clear, and are proud to answer their call," said Ruger President and CEO Chris Killoy. "We anticipate the woods of Indiana, Iowa, Michigan, Ohio and many other states will be full of new Ruger rifles this fall."

Rifles chambered in .350 Legend are not exclusively destined for the so-called "straight-wall states." The cartridge combines impressive muzzle energy with low recoil, making it a good match for both the lightweight Ruger American Ranch Rifle and feature-rich AR-556 MPR. The cartridge is available in a variety of hunting, subsonic and target loads, inviting plenty of trigger time with Ruger's new .350 Legend rifles.

Since its launch in 2012, the Ruger American Rifle has earned a reputation for outstanding accuracy and reliability, and the .350 Legend is a natural fit for the platform. This new chambering is offered in both standard (13.75") and compact (12.50") lengths of pull to fit most shooters, while the ergonomic stock and soft recoil pad ensure comfortable shooting. The 16.38" cold hammer-forged barrel features a 1:16" twist rate and is capped with 1/2"-28 muzzle threads and thread protector. A 5-round metal AR-style magazine, one-piece Picatinny scope base, Ruger Marksman Adjustable™ trigger and ambidextrous tang safety complete the package.

The AR-556 MPR has proven to be an excellent hunting platform, and the .350 Legend chambering expands that role. The nitrided 16.38" barrel is capped with a 1/2"-28 radial port muzzle brake. The rifle's appeal is enhanced by the combination of a Ruger® Elite 452® AR-Trigger, Magpul® furniture and a 15" free-float handguard. Magpul M-LOK® accessory attachment slots make the addition of a sling or bipod easy. With less recoil, and weighing almost a pound less than its .450 Bushmaster counterpart, the MPR chambered in .350 Legend is a fantastic hunting option.