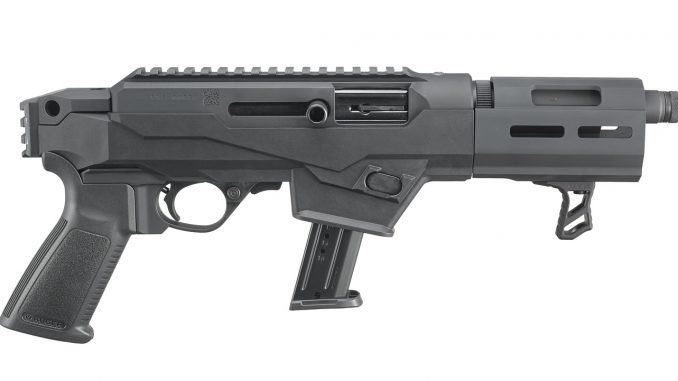 Ruger has finally released a pistol version of their popular PC Carbine, dubbed the PC Charger. The PC Charger is a semiautomatic, large format pistol chambered in 9x19 NATO.
Ruger is applying design cues from the chassis variant of the PC Carbine for the new pistol. The rear of the gun features a segment of picatinny rail for the addition of an arm brace or stock for those SBR fiends. A single QD cup is located on either side of the gun, just above the rail segment. Ruger's proprietary pistol grip comes standard, but users can easily swap this out for any AR-15 grip of their choosing. The remainder of the receiver is business as usual compared to the PC Charger's lengthier brethren.
The cold hammer forged barrel is a short 6.5 inches in length with a 1/2-28 threading at the muzzle for suppressors and brakes. The barrel lacks any sort of iron sights, meaning shooter's will need to mount an optic on the receiver's rail. An aluminum handguard surrounds the barrel, with MLOK slots at the 3, 6, and 9 o'clock positions. Ruger is including a UTG handstop at the 6 o'clock position. Shooters need to be wary of two openings in the top of the handguard; Costa style C-Clamp grips will result in burned thumbs.
As with previous versions, the PC Charger comes with a single 17 round Ruger SR series magazine, and a Glock magazine adapter. Ruger American magazine adapters are available for purchase from Ruger directly. Both the charging handle and magazine release are reversible. The gun features a quick take down system, allowing the barrel and handguard to quickly separate from the receiver without tools.
Thoughts on the Ruger PC Charger
This is something I've been waiting for since 2017. An affordable, reliable pistol caliber carbine, in pistol format. I plan on getting one for myself to see how it compares to the full size carbine version. Not to be a size queen, but I'd prefer 8 inches for a better grasp with my off hand and more room for accessories. I've experienced a single malfunction with my PC Carbine over the years, and I'm sure the Charger will provide the same level of reliability.