We think we know what the Glock 44 is! There has been a ton of buzz all over the internet since Glock launched a website featuring a man standing on a rock, a cryptic crosshair over the entire image. There are no real tangible clues in anything that Glock has put out yet at a glance.
There has been a ton of speculation of the last few weeks with guesses all over the map. Some of our personal favorites were a folding 10mm carbine, a Glock 19 sized .45 ACP, a Glock AR-15 pistol in 5.56mm, and several variations of 10mm Auto pistols.
We think that all of those guesses are wrong. 
We had heard some industry talk that the new thing was either going to be a .22lr pistol or a 10mm. Beyond that, it was anyone's guess.
The First Clue
Thanks to a post on The Truth About Guns, we know that AR15.com user sq40 posted a picture of a sticker with "Plink 44" in large letters with "start your journey" over it. A subtle Glock in the lower-left corner ties it all together and makes the sticker look very legitimate. The shadows on the bottom of the sticker look right, if it was a fake, it is a damned good one.
We did some digging and found that the image was originally posted on Reddit in r/Glock by user u/Orangeman198, but there was no indication where the sticker originated from.
AR15.com user Charlie_Foxtrot did some poking around and found that the webpage for the Glock 44 was live, but blank. The sticker looks a whole lot more legitimate with that bit of information.
What Is The Glock 44
To be entirely honest, we aren't 100% sure, but we do have a really good idea of what it could look like. We believe that the Glock 44 will use a Glock 19 sized frame without finger groves like a Gen 5.
We don't think the frame is the interesting part. We think that the way they build the slide will get the most attention, and rightfully so.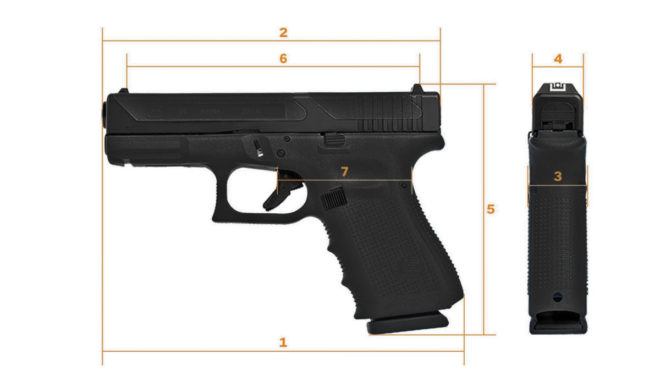 Back in 2012, Gaston Glock filed a patent for a slide that uses polymer inserts to cycle "low-impulse ammunition" in their blowback Simunitions FX Glock 17T and Glock 19T training pistols.
Glock's goal was to replicate the feel of a duty caliber firearm while avoiding an aluminum slide as you find on most replica .22lr pistols.
Glock's patent even directly mentions .22 LR ammunition specifically.
The invention relates to a small caliber pistol, a pistol for low-impulse ammunition (e.g. 0.22 LR or 0.380 auto/9 mm short) or a training pistol.
This slideshow requires JavaScript.
Now we don't know what the magazine capacity is, if the pistol will be optics ready, or even if the Glock 44 will take standard Glock sights because of the possible use of plastic inserts.
The only thing that we can feel confident in saying is that it will be a .22 lr pistol and likely will have the plastic inserts in the slide to reduce the slide mass enough for .22 lr to cycle properly.
Are We Right?
Tell us in the comments if you think that we might be onto something about the Glock 44 being a .22lr that uses their patented low mass slide.
If you haven't read our other Glock leaks, we were among the first to report on the Glock 45 leak (read here), the flubbed Glock 43X & Glock 48 release (read here), and the US Secret Service officially adopting the Glock 19 & 47 pistols (read here).